The Medicinal Chemistry Core Facility was established by the USC-School of Pharmacy, Los Angeles, CA in June of 2022. This core plays a crucial role in the drug discovery process through the selection and synthesis of compounds that establish structure–activity relationships and achieve efficacy and safety in preclinical animal testing. We provide synthetic chemistry resources which is an essential cross-cutting platform to support a robust drug discovery research program. Our goal is to assist USC investigators in all aspects of small molecule drug discovery and development process, including, but not limited to, target validation, lead optimization using advanced machine learning software, tool compound custom synthesis, small scale and multi-gram scale synthesis and purification, structural determination, purity analysis, and provides support with ADMET, In Vivo-PK/PD studies, as well as with In Vivo Safety Pharmacology.
Medicinal Chemistry Core mission is to provide support to all faculty and students in their synthetic organic/medicinal chemistry needs while assisting the larger scientific community of experts who partner with the core. MedChem Core offers advanced technology and equipment including machine learning software, reaction microwave, combi flash, and reverse phase prep purification systems to aid drug design, target validation, hit to lead and lead optimization studies through medicinal chemistry structure activity relationship (MedChem SAR)
Target Validation, Drug Design and Synthesis
Hit2Lead chemistry and Lead Optimization Studies
Small Molecule Custom Synthesis
Scale-Up Synthesis and Purification
Syntheses of Key Metabolites
Syntheses of Intermediates
Structural Determination by NMR, MS, Elemental Analysis, etc.,
Synthesis of Precursors for Radio-Labeling
Support on ADMET,  In vivo PK/PD Studies
Expert Consultation on All Aspects of Synthetic and Medicinal Chemistry
Letter of Support for Grant Applications
Internal and External Collaborations with Grant Application
Industry Experience in a University Setting
The Medicinal Chemistry Core is in the school of Pharmacy Building. The synthetic chemistry laboratory is equipped with chemical fume hoods, balances, heating mantles, stirrers, refrigerators, freezers, Buchi R-300 rotary evaporators with V-300 vacuum pumps, a lab oven, a Melting Point Apparatus, a Biotage Microwave Synthesizer, a ACCQPrep HP150 Prep HPLC System, and a CombiFlash NextGen 300+ Automated Flash Chromatography System.
Biotage® Initator+ Microwave System
Manufacturer: Biotage®
Description/Applications: Biotage® Initator+ Microwave System with Robot Eight Automation for Microwave Assisted Organic Synthesis
Supporting Documents: Instruction Manual
CombiFlash NextGen 300+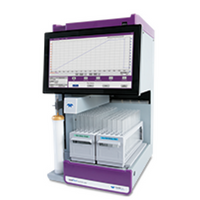 Manufacturer: Teledyne ISCO
Description/Applications: The CombiFlash NextGen 300+ comes standard with all options installed. Flow rate range is from 1 to 300 mL/min at operating pressures up to 300 psi (20 bar). The system is fitted with a solid load injection valve that can be bypassed if you decide to perform a liquid injection.
Supporting Documents: Instruction Manual
ACCQPrep HP150 Prep HPLC System

Manufacturer: Teledyne ISCO
Description/Applications: ACCQPrep HP150 Prep HPLC System with 200-400nm UV variable wavelength detector. 1-150 ml/min. Up to 6000 psi (400 bar).'
Supporting Documents: Instruction Manual
BUCHI Rotavapor™ R-300
Manufacturer: BUCHI
Description/Applications: BUCHI Rotavapor™ R-300 Rotary Evaporator with Controller and V-300 Pump
Supporting Documents: Instruction Manual
In addition to these core facilities, the core has access to the school Shared Analytical Facility, which includes NMRs a Varian Inova 400, Thermo Fisher Q-Exactive (LC-MS/MS), and other essential analytical instruments such as Sciex 6500+ (Triple quad/ion trap, LC-MS/MS), Bruker Rapiflex (MALDI-TOF-TOF)

Oxford NMR AS400
Manufacturer: Oxford
Location: PSC 402G
Description/Applications: Two-channel superconducting 400 MHz NMR Spectrometer that produces very high-resolution data. Liquid and solid samples are achievable for structural analysis and identification of organic molecules.
Supporting Documents: SOP Document